Cannuflow designs and manufactures innovative surgical fluid management devices that deliver superior performance, greater safety, and unique technology to veterinarian arthroscopists worldwide. Each of these proprietary products provides a solution to one or more chronic problems faced by surgeons performing knee, shoulder or hip arthroscopy.
ClearVu 2.7 Flexible Outflow-Inflow Cannula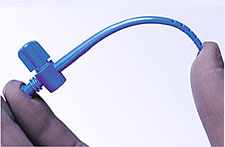 Conventional canine and equine three-portal knee/leg joint surgeries utilize a dedicated fluid cannula inserted into the joint space via a "third portal" incision. This technique offers continuous fluid inflow/outflow and optimal visual clarity.
The use of metal cannulae demands special care to prevent articular cartilage injury, including repositioning of the device whenever the knee is articulated during surgery to prevent clogging. Metal cannulae are considered the primary source of "third portal" pain.
The patented ClearVu cannula, constructed of flexible plastic, flexes to follow the inner contours of the knee/leg joint. Its unique "progressive" flexibility provides rigidity at the proximal end for control, and a safer, softer fenestrated distal tip that never clogs or scores.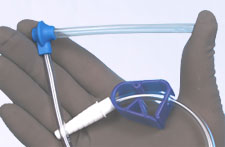 Made of a soft polymer, the patented TwoVu sheathe slips easily over the arthroscope's own sheath to create a second channel to establish continuous flow of irrigation fluid, providing optimal visual clarity and improved efficiency during canine and equine percutaneous shoulder and hip and two-portal knee/leg joint arthroscopies. This eliminates having to switch from inflow to outflow on the scope to regain image clarity and remove debris. Providing continuous fluid flow also reduces the potential for damaging fluid flow build-up in the joint when using RF ablation devices.
With knee/leg joint arthroscopy, TwoVu eliminates the need for a third portal ... as well as the post-operative pain typically associated with it. TwoVu is available in sizes to fit nearly all scopes
SportPort Flexible Port (for Shoulder and Hip Arthroscopy)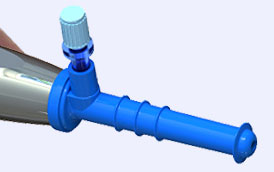 SportPort is the first and only elastomer port to combine high instrument mobility with the ease of use of a conventional smooth cannula with standard fluid management options. In addition to being designed to easily pass curved instruments, its patent-pending DistalDrive insertion system makes SportPort as easy and intuitve to place as a conventional rigid cannula and it is compatible with switching stick "railroading" techniques favored by many surgeons. It also features an inflow/outflow side port lacking in other rubber designs.
ExtravaStopper Anti-Extravasation Portal Plug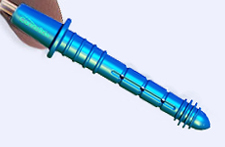 In addition to preventing fluid loss from abandoned portals, ExtravaStopper is the first portal plug to also control fluid extravasation, even in problem areas like the anterior portal. Its innovative Extravastat technology enables it to reduce fluid extravasation by continuously draining interstitial fluids, visibly reducing swelling of soft tissues.
Simply load this easy-to-use device onto a 4mm blunt switching stick to quickly insert it into a portal, then connect it to ordinary suction (e.g., to a bucket or Stryker Neptune or similar collection receptacle).
What's more, ExtravaStopper keeps fluid in the joint and off the OR floor, meaning less mess and fuss and quicker cleanup.